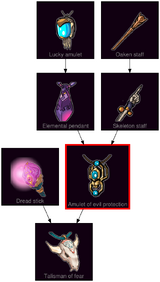 Research CycleEdit
Items that come before and/or after this item in research cycle:
Lucky amulet > Elemental pendant (+ Skeleton staff) > Amulet of evil protection > Talisman of fear
Same picture is used at Elemental talisman in the game. That talisman however is 2,5 times as expensive.
General BuyersEdit
See infobox at lower right.
SuggestionsEdit
Items that can be suggested in place of this one: